In this article I'll show you how to configure the Kinefinity Terra so that it can easily transition between takes that are shot with a gimbal and others locked off on a tripod. 
Time is money in the production business. On set there are assistants, make-up artists, actors/actresses, etc. Any time the camera department must change setups is time production definitely is not happening. In order to minimize downtime, I've put together this how-to guide that you can follow if you ever find yourself working with one of these cameras and looking to go between tripod and gimbal.
Anytime a gimbal is involved weight becomes an important consideration. To keep the rig's overall weight down, consider purchasing Freefly's rods adapter that attaches to the front of the camera plate.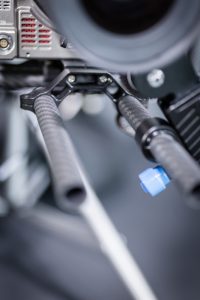 It comes standard with some carbon fiber rods, but they can be a bit short, so you might want to replace it with some slightly longer ones.  This will be helpful later on for those scenarios where you may want to attach a mattebox because you'll be able to use the same setup/pair of rods.  It also will give you a proper place to additionally attach remote focus hardware.
Once that is built you'll want to securely fasten it to the underside of the Terra. You may need some 1/4" to 3/8" inserts in order to use the proper amount of screws to satisfy a secure connection.
At the time of this writing the camera was still a new and relatively unknown piece of professional filmmaking hardware. As a result, there was not much third-party support for add-ons designed to uniquely fit its custom build. One company Kinefinity has partnered with to fulfill that need has been Movcam Tech Co. Their top cheese plate and handle are a good combination, designed to exactly fit the camera. If you have their shoulder kit for the camera and its accompanying base plate, take those off and also remove the side plate that secures the top plate to the bottom plate (for the sake of our setup it just adds unnecessary weight). No design is a perfect design and in this application there is one big drawback and that is the height of the handle that comes with some simple hardware that can be fixed to two positions atop the Terra.
It has the ability to mount an adjustable rod that can be used to install an EVF or small monitor, hot shoe, and additional threaded holes for various pieces of hardware. This piece has been well thought out and engineered. Users are able to slide it from one side to the other and it has a nice locking system that prevents it from sliding off even if it should come loose. The downside to this setup is it doesn't leave any place for the Freefly top mount (which I like to use whenever I'm rigging a MōVI because it adds a layer of protection when securing the camera payload). But there is a way to resolve that. Either secure the Freefly adapter with the ¾" screws on top of the Movcam handle or utilize the hot shoe with the DSLR adapter kit that is included with the MōVI from freefly.
With the top of the camera built, it's now ready for mounting on the gimbal. It's important to take the system base weight into consideration when adding any kind of payload to a gimbal. That's why for this example I'm using the Freefly MōVI M15. It allows for the maximum number of varying configurations/payloads while having the low starting base weight of just 5lbs since it is built from carbon fiber and plastic. Saving on overall system weight is crucial to preventing operator fatigue/injury.
While this setup is somewhat compact, there is one problem that now comes into play, and it's the height of that top handle. Yes, it could be removed and save on a small amount of camera weight, but by leaving it attached, the operator can quickly transition from gimbal to tripod without having to use tools to take apart/add on mounting hardware.
That means the Freefly MōVI needs to be modified. In order to fit the camera, one must remove the (4) 15mm side rods from the MōVI cage. Replace those 9" versions with 12" carbon fiber rods.
Pro Tip: do not purchase inexpensive rods from sites like Amazon, as they may not fit. A good pair I liked came from Ikan Corp.
Now the folks at Freefly don't recommend changing the rods from 9" to 12" because it may affect the overall system balance, making it more of a challenge to use with full rotation but I personally didn't discover any major inabilities during my tests.
Secure the camera and balance as normal. I found I had to make some adjustments to the overall cage position during this process, too.
I like to have my screen mounted to the handle (which requires an additional hardware bracket).
I also found that with a true cinema prime, the camera became front heavy, so to help counter that you may want to place the base station for any remote focusing unit towards the back of the camera like I did here.
To get it into that position I attached it using an articulating arm connected to the top cheese plate.
Power for the camera gets connected via an external cable (so that the battery is not mounted to the gimbal, increasing the system weight).
The key to transitioning the camera from gimbal to tripod lies in how the unit gets mounted. To accommodate that need the folks at Alpha Tools (1A) machined a simple, yet brilliant adapter that is designed to accept the MōVI's camera base plate. Just slide it in and secure via the thumbscrew on the underside.
That's how you go from one setup to the next, minimizing downtime while keeping your camera build as efficient as possible.
Everyone's setup will be slightly different and your needs may not line up with mine. But I hope this has helped inspire you to find an appropriate solution that works in your life. Remember to always research, test, and configure with plenty of time before a commercial job/application.
It's important to be fully comfortable and knowledgeable prior to arriving on set.